Where Community Gathers

Please consider making a tax deductible gift to The Bank Theatre. Please use the donation link below or mail your cheque to Box 434, Leamington, Ontario N8H 3W5
During these unprecedented times your donation is more important than ever as our doors remain closed due to the pandemic. Your donation can help us with items needed to bring the theatre to government and health agency protocols necessary for reopening and sustain the theatre in the uncertain months to come prior to reopening.
We appreciate all donations big and small; the financial support you give helps bring quality productions to our community, revitalizes and sustains our Uptown Leamington core, draws tourism to Leamington and benefits us all as tourism dollars are used throughout our community at area businesses.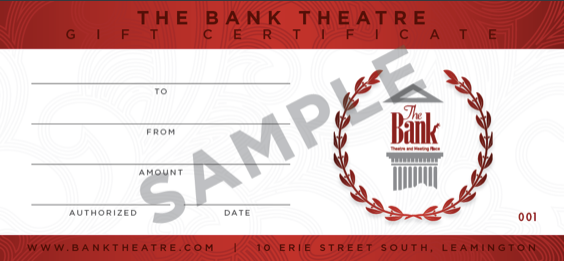 Sun Parlour Players Community Theatre operating as The Bank Theatre is a registered charitable organization ~ 11920 5987 RR0001.
We'll add an engraved plaque on the seat and we'll prove a charitable tax receipt to you.
Limited number of seats available and going quickly!
Seat Donors

Thank You For Your Contribution!
Erin Armstrong
Brad & Lynn Bailey
Madeline Bailey
Barrineti Construction Ltd
Ken & Margaret Beattie
Fran Berry
The Blom / Boudry Family
Robert & Dorothy Botham
Ed & Helen Brown
Joanne Brown
Constance Budd
​Crave Family Grill & Pub
Dale Butler – Friends of the Last Friday Coffee House
Michael Bunke, Ewald Krohn, Irene Storrey, Ursula Tiessen
​Carolyn Campbell
Century 21 – The Home Team
Anthony & Jill Cervini
Gord Ciliska
Baker Tilly Trillium LLP
Counter Effects
Manfred M. Bunke, Chris Larking, Gisele Miller & Ursula Tiessen
Francis Dearman
David & Sieglinde Derbyshire
DH & Mechanical
Bob & Janet Dick
Dennis & Vicki Dick
Herm & Elizabeth Dick
John & Helen Dick
Dennis & Karen Driedger
Fred & Linda Driedger
Norbert Driedger & Paula Driedger
Paul & Shirley Driedger
J Ronald & Dorothy Edwards
Herb & Mary Lou Enns
David & Charlene Epp, Peter & Terri Epp
Kathryn Filsinger
Jim & Janice Founk
Gabriele Carpet Centre Ltd.
Penelope Gil
Lawrence Gilbert
Wayne & Kathy Goble
Vickie & Ron Haley
Ella Hamill
Dr. Caroline Hamm
Laurel & David Hart
Linda Henderson / Rose Family
Highbury Canco Corporation
Roger & Kari Lynn Hewett
Millicent Vorkapich Hill
Hub International Ontario Ltd.
Honourary Seat -Leslie Brown
Wayne Noble – Honourary
Mike & Belinda Herbert
Victor & Helen Huebert
Audrian & Bill Hutchinson
Bob Jackson
Emil Jarecsni
Jose's Bar & Grill
Kiwanis Club of Leamington
Mary Ann Kazuke
Kent & Essex Mutual Insurance Company
Brian & Kim King
Mary L. Lambros
Steve & Peggy Lashmar
Leamington Chrysler
Leamington Lions Club
Robert & Elizabeth Lee
Libro Credit Union
Jerry & Vicky Liddle
David & Sharon Light
​Little Tomato Children's Theatre
Sheilah Marans
William & Barbara Martens
Joe & Barbara Maxwell
Larry & Sandy McDonald
Joan McSweeney
Garry and Starr Mills
Garry Mills Family Farm
Brenda Moody
Nello Construction Ltd.
Elsie Neufeld
Leonard H. Omstead
​Reid Funeral Home
Royal Canadian Legion Branch 324 Wheatley
Ruth Owens
John & Georgia Parsons
Alan Paterson
Peachland Rebekah Lodge No. 45
Lee & Linda Pearce
Dr. John & Janet Pearson
Todd R. Pepper
Nancy Plumb
Richard & Dorothy Poisson
Mariette Preyde
W.J. Pritchard
1277032 Ontario Inc. / Tina Quiring
Tina Quiring
Ed & Linda Regehr
​Carolyn Reid
Karen Repko
Jim & Diane Samson
Allan & Marilyn Scase
Catherine Riediger & Bill Sherk
Schrade Family – David, Susan, Nancy, Linda and Janet
Rob & Billie Stapleton
Sun Parlour Shrine Club
Switzer-Carty Transportation
Rick & Forest Taves
Don & Elenor Taves
Eric C. Taves
William & Luise Taves
​Harold & Mary Thiessen
Tiessen Financial Services
Jim & Cathy Thomson
John & Diane Tofflemire
Jane Toppi
Uptown Leamington B.I.A.
George & Judy Ward
Wheatley Lioness Club
Gloria White
J. Wiebe Building Materials Ltd. – Home Building Centre
Will Insurance Brokers
Victor & Marilyn Winter
Ruth Woodsit & Family
Domenic and Rima Mastronardi
Subscribe to our newsletter
We will keep you up-to-date with news and special events.