GUARDIANS OF THE BANK THEATRE
Become A One Time OR Guardian Sponsor
One time donation cheques may be sent to:
The Bank Theatre
PO Box 434
Leamington, Ontario
N8H 3W5
Consider making a monthly donation and become a Guardian of The Bank Theatre. Your donation will help us to continue to operate and produce high-quality programs and events. It will help us cut down the cost of supplies needed to make both theatre and musical productions. Your gift helps to boost our local economy. Theatre companies attract visitors, create jobs and develop local talent.
This monthly giving program allows you to choose an amount that will help us in many ways. You divide your annual donation into 12 monthly payments. You can change your monthly contribution at any time by contacting us. You will receive a tax receipt for your donation before tax day of the following year.
Monthly Giving
We invite you to set up a monthly donation. Choose a monthly gift of $10, $50, $200 or your chosen amount.
How will your dollars help? Your monthly giving will:
Keep our lights on and run our box office
Aid with technical and sound equipment, technical and lighting design
Help with set building, materials and props, plan educational programs and summer theatre camps for youth
Provide scripts for actors
Send an email to Michelle 

[email protected]

or call
519-326-8805


to set up a monthly or annual donation of your choice.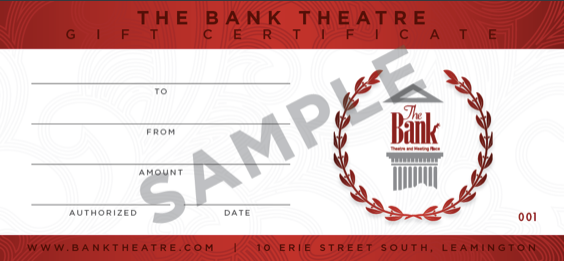 Sun Parlour Players Community Theatre operating as The Bank Theatre is a registered charitable organization ~ 11920 5987 RR0001.
Tax receipts will be issued for donations of $20 or more.
Subscribe to our newsletter
We will keep you up-to-date with news and special events.