Music on the 42nd, 2021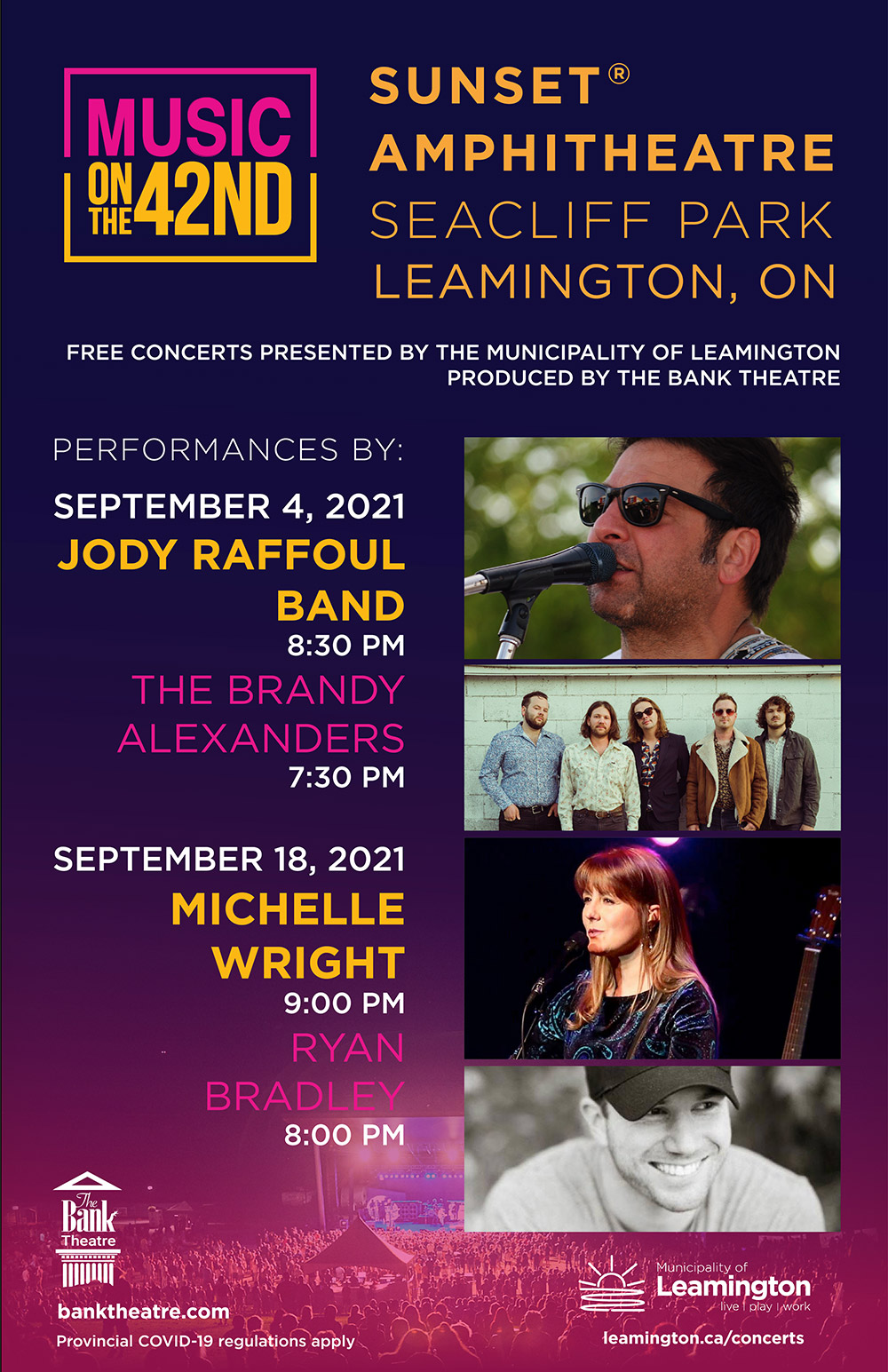 The Municipality of Leamington, in partnership with The Bank Theatre, is excited to announce the return of the Music Onthe42 Concert Series with two free outdoor concerts at Leamington's SUNSET® Amphitheatre.
Beginning Saturday, September 4, the SUNSET® Amphitheatre will set the stage for local legend Jody Raffoul and hometown sensations The Brandy Alexanders. On Saturday, September 18, local country blues musician Ryan Bradley will open for one of Canada's most widely recognized and awarded country artists, Michelle Wright.
"We are thrilled to welcome residents and guests back to our beautiful waterfront amphitheatre this summer to enjoy free outdoor concerts," said Mayor Hilda MacDonald. "As we continue to navigate the pandemic, we are happy to offer safe outdoor experiences for all to enjoy."
"We are honoured to partner with the Municipality of Leamington once again," said Roger Hewett, Vice President and Chair of Programming at The Bank Theatre. "The Music Onthe42 concert series will bring guests and families together safely while enjoying something we've all been missing and longing for: live music! Jody Raffoul will rock the series on opening night and country star Michelle Wright is a dream we're happy to see become reality!"
All are welcome to attend these free, un-ticketed outdoor events. Bring a lawn chair or blanket and get set up on the lawn for the show. Ontario COVID-19 regulations apply.
Media Contacts:
Kelly Sfetkidis, Manager of Communications and Public Relations
Municipality of Leamington
[email protected]leamington.ca
519-326-5761 ext. 1117
Michelle Fortier, Manager and Publicity
The Bank Theatre
[email protected]
519-300-5954